Disclaimer : I received this from Pens N' More (Links to the same pen on their site) as a review sample at no cost to myself and I get to keep the sample. This doesn't affect how I evaluate the pen, as I still take into consideration how much it would have cost me normally. If I don't like something I'll say so.
This particular pen is an early revision of the currently available Jinhao 599A which in appearance is even more Safari-like with an ink window.
I've been using this pen since mid-May (2014), so I've had some time to test against small things like drying out, or not being used for a week or two.
Appearance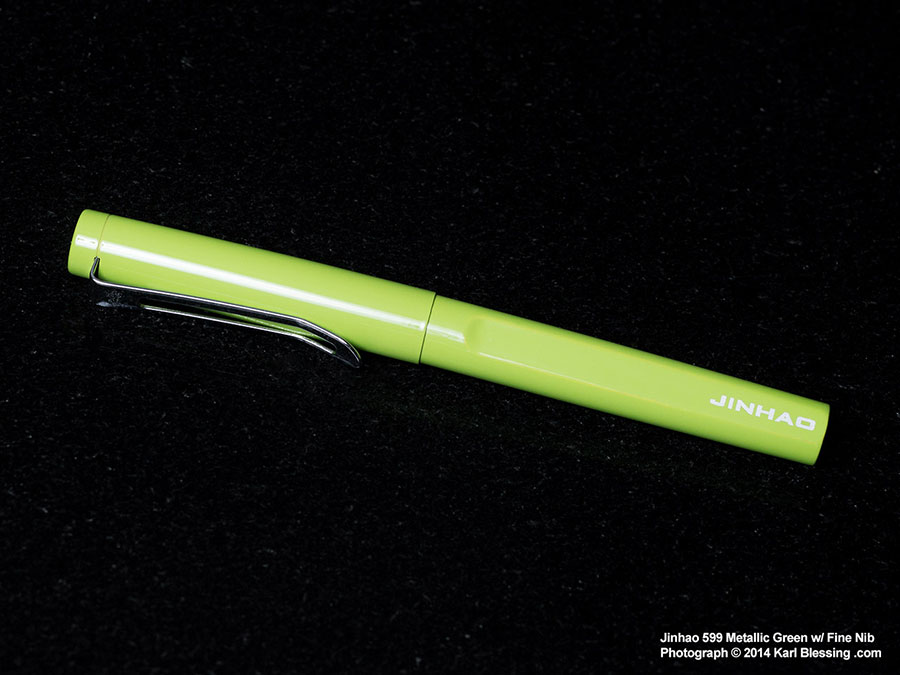 The pen I received was a bright lime green color painted over metal (possibly brass) cap and barrel with a plastic grip/section. It sort of reminds me of the color of a sour green apple. The body of this particular model does not look quite that close to a Lamy Safari, but the nib is rather close in appearance. The Jinhao 599A keeps the same nib but adds the ink window giving it more of the appearance of the Lamy Safari. There are other revisions that also change the nib somewhat (hooded nib and traditional looking nib), I have not had a chance to try those out.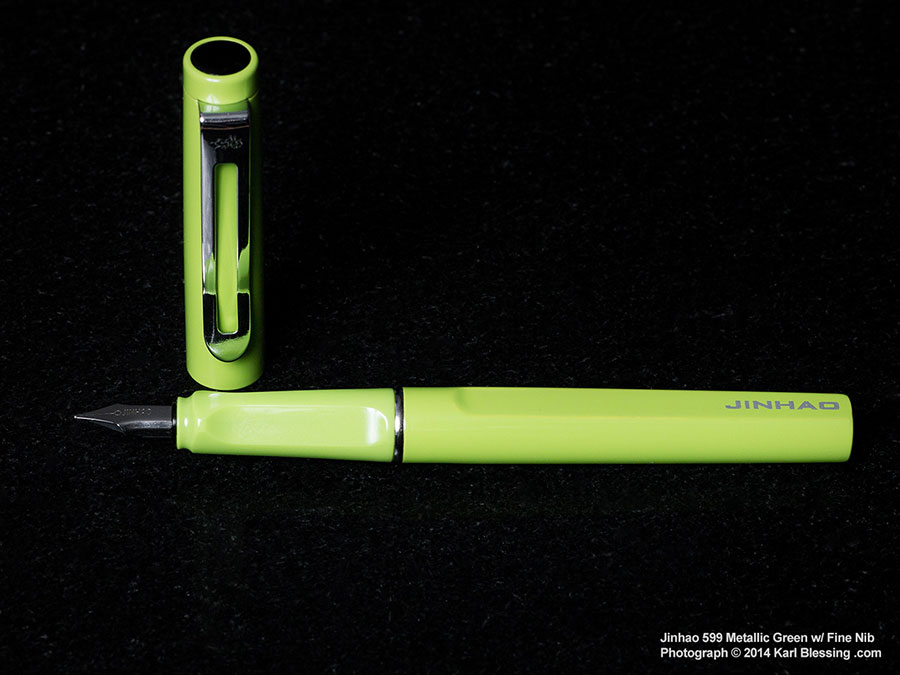 Around the tapered ends of the barrel you can see a little bit of the brass underneath. With the lime green paint it goes on well.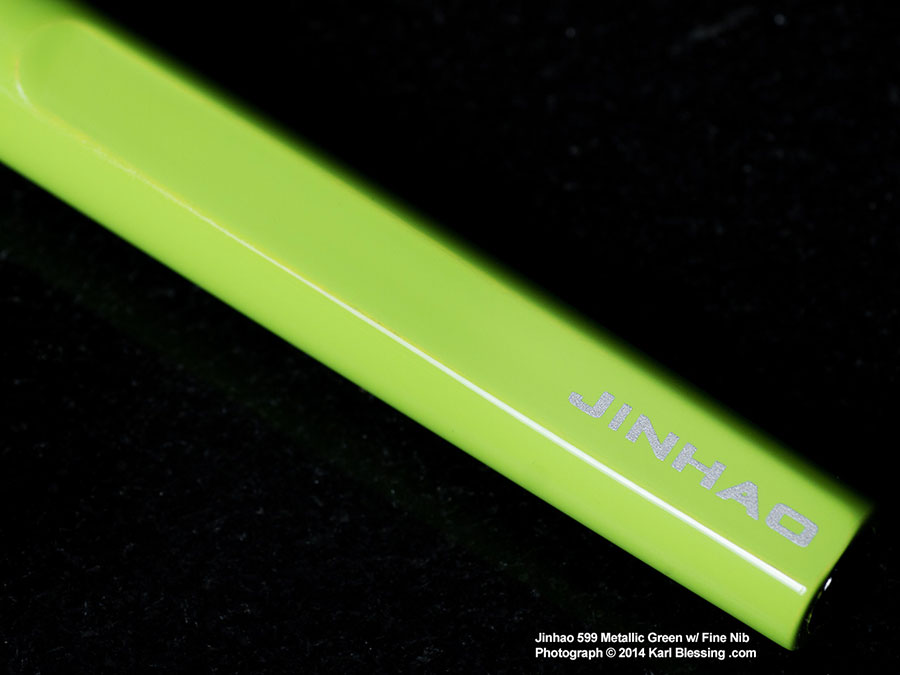 Handling/Weight/Feel:
The pen has a nice feel and length to it. This particular model is mostly brass, so it has a bit more weight to it than a Lamy Safari. The newer 599 models such as revision A are plastic so they should be closer to the weight of an actual Safari. The cap clicks well and securely and is not too tight to remove for normal usage.
Course I've never been a fan of the 3-way grip/sections where they're squared off. The one on the 599 does not feel too bad to me. If you're in love with those kinds of grips you may be fine with the one on the 599. The section is nearly identical in style to the Safari with the flat sides on top with the rounded bottom. I prefer the grips to be completely rounded.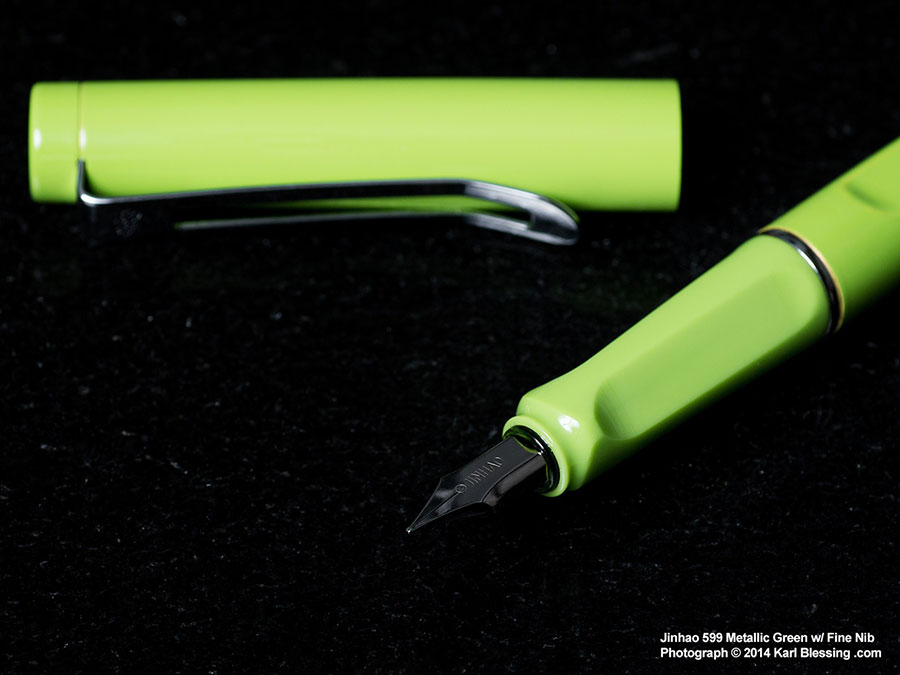 Nib/Performance:
Every once in a while I'll find one of those cheap pens that surprise me, this is one of those pens. The nib on this particular pen is very smooth and flows very well. It puts down a line thickness similar to a western fine, which is about a size down from the nibs you would find on a Jinhao X750, X450, 159, etc.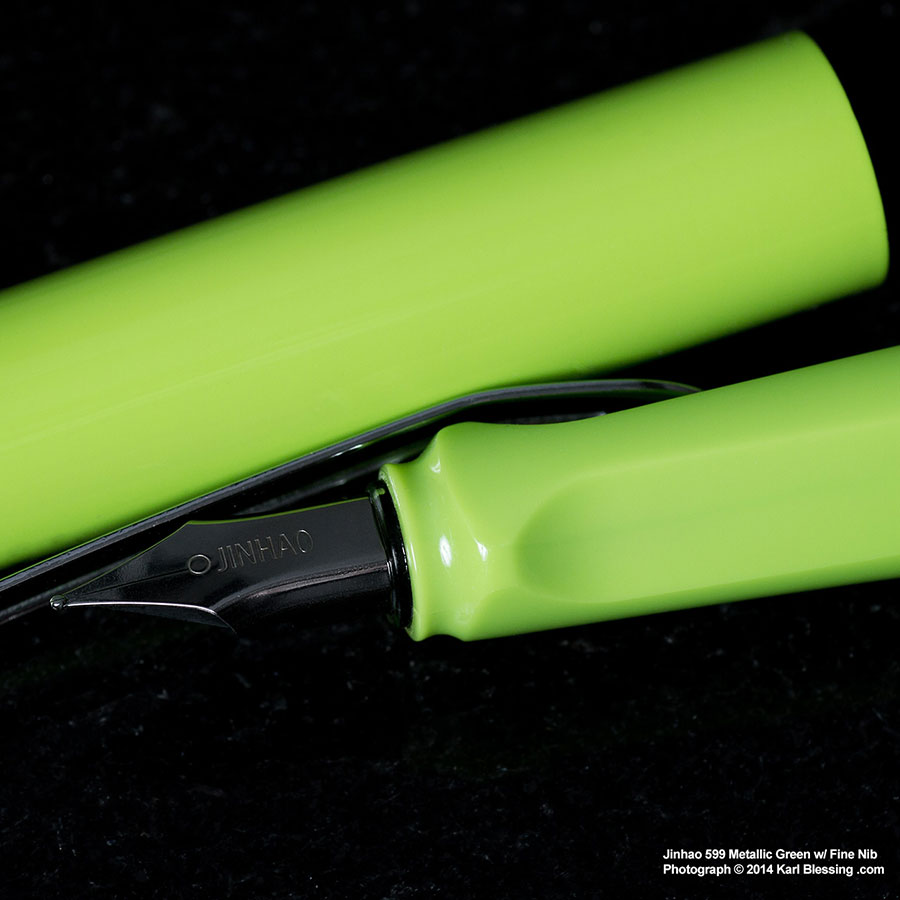 It's not like super-glassy-smooth, but it's a comfortable smoothness with a tiny bit of feedback and next to no scratch. Private Reserve Spearmint and Caran d'Ache Electric Orange performed wonderfully in it.
I've even left the pen sitting for past a week and it starts right up when writing with it again. So for the past couple of months it have actually impressed me for one of Jinhao's offerings. It flows well, it's smooth, doesn't appear to dry out easily, a decent performer.
Filling/Cleaning:
Like most pens made by Jinhao, the pen is a C/C (Cartridge/Converter) system using the standard international fitting. It's also the first Jinhao pen I got where the converter was designed specifically for the pen. The converter as you can see is styled to look a lot like the Lamy converter.
The section housing extends a bit to wrap around more of the converter with some grooves cut out, perhaps to aid in being used with the newer version of the 599 which has an ink window. However this design does make it a tiny bit more difficult to clean the pen with an aqua bulb. However you can always take a used cartridge and cut off the back to be used with an aqua bulb.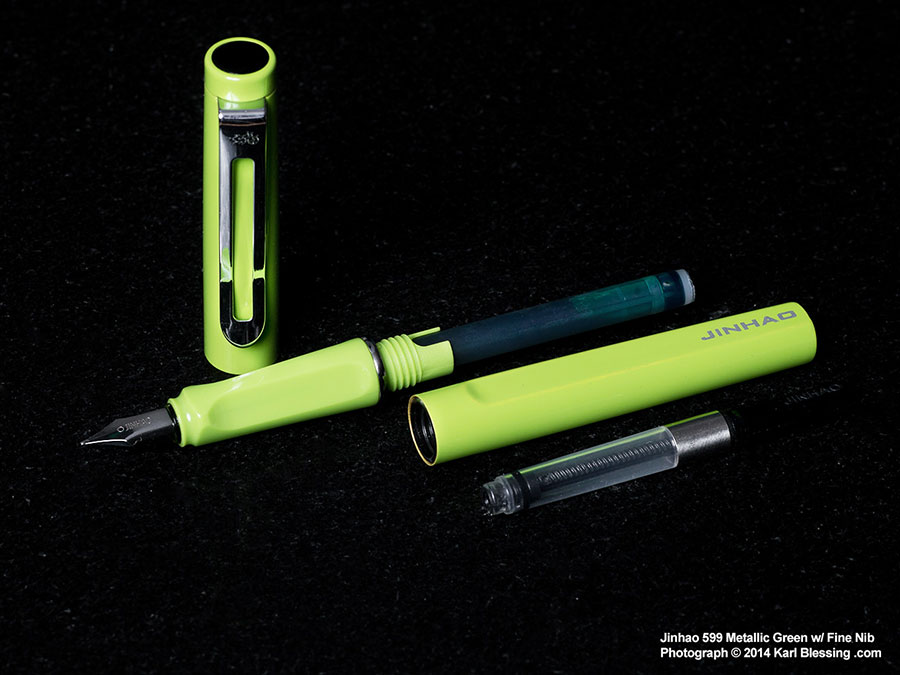 While I have been able to remove the feed from the section (a very long feed), I have not been able to get the nib detached from the feed itself, which makes more rigorous cleaning difficult. As a result if you get ink dried up under the nib you'll likely have to soak the nib, feed, and section for a while.
A couple weeks ago I had a mishap with the converter in the pen. Would seem that the back end of the converter no longer stayed sealed. This can sometimes happen, but it's the first time it has happened to me out of the dozen of Jinhao pens I've owned. It is also the reason I like to have a spare international converter in my cleaning kit, along with some silicone grease since sometimes you can repair the converter yourself with a little bit of silicone grease on the rings and seals.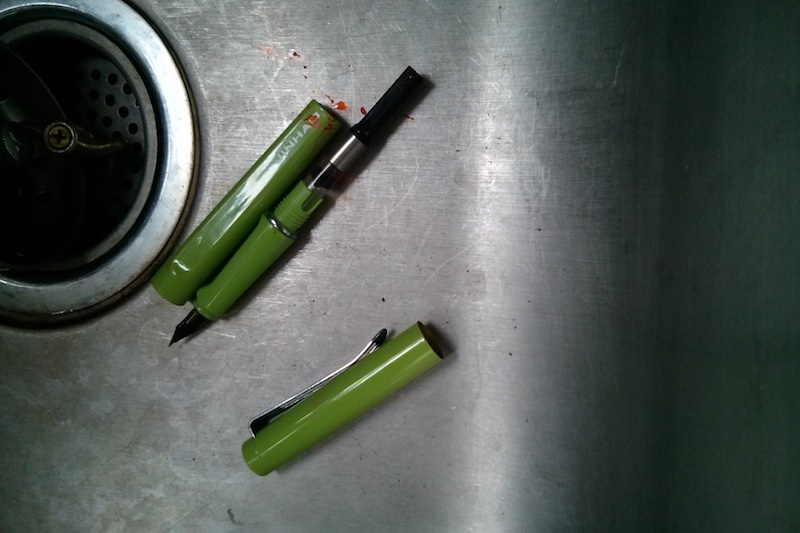 Since this was a one time occurrence, I'm chalking this up as probably a one-in-a-hundred mishap. If it's of large concern, you can always get an aftermarket converter, one that doesn't quite look like a Safari clone.
Overall:
The pen is less than 10 USD, it writes wonderfully for the price and easy to pocket. Aside from the converter mishap I have not had a problem with the pen and it flows great. One of the nice things about the 599 line is that like the Safari it clones they come in quite a variety of colors.
Write Samples: