My new 1995 Wahl-Eversharp Skyline, Yellow Cab Edition (nope, don't got the box or tax cab, just the pen). Has a 14K Broad nib on it, which to me write more like a medium, similar to the 14K Medium on my Pelikan M250.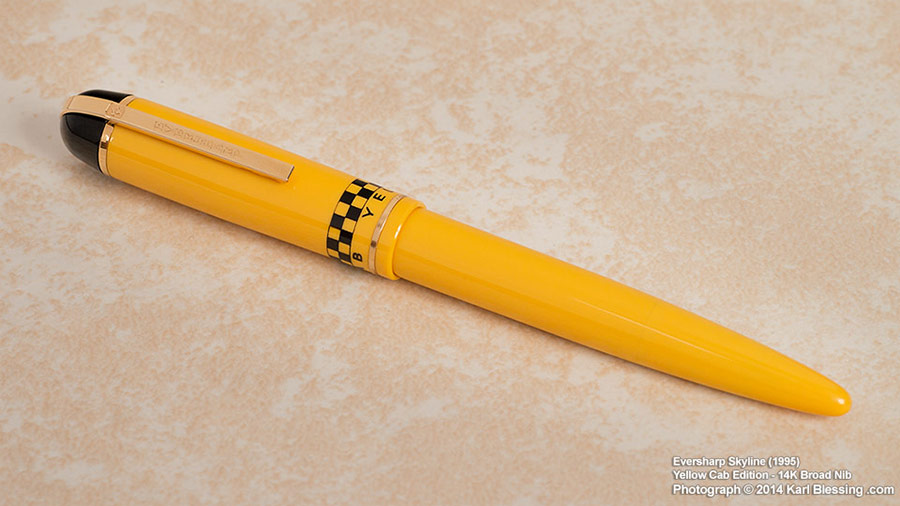 This plus a spare #4 14K nib, were a trade for two of my 'user grade' vintage pens that were restored to writing condition.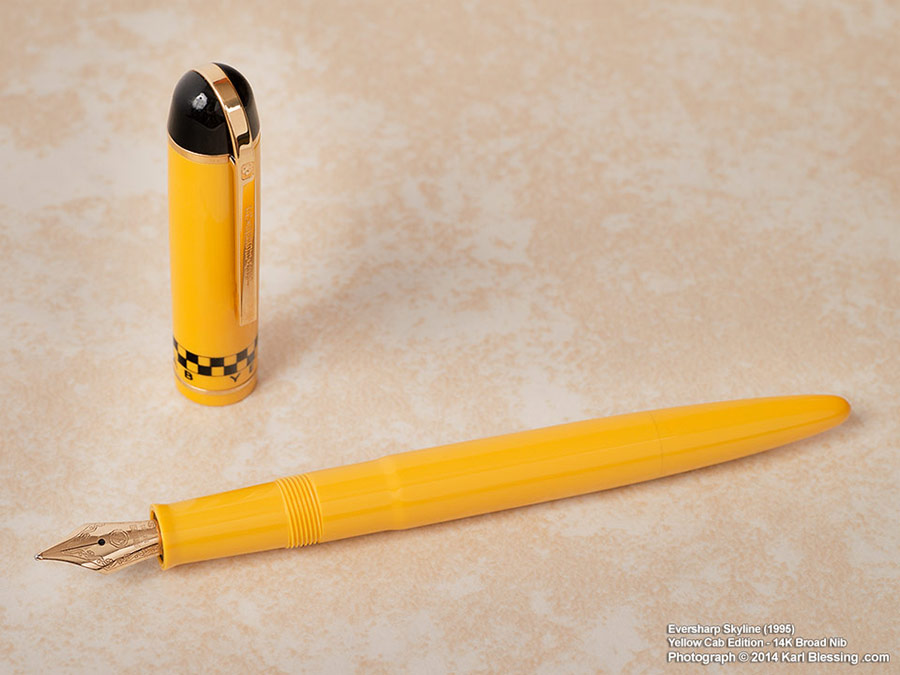 The pen is certainly interesting to look at. The cap's construction seems to be nearly identical to how the 40s Skylines are assembled right down to the tight metal insert on the derby cap. The nib was a little annoying at first, had sort of a baby-bottom behavior of not quite getting ink down onto the paper with the first light touch, despite the tipping seeming perfectly symmetrical at all angles under the 60x loupe (a little tuning with micro-mesh and mylar fixed that up after I verified alignment and other factors).
Design-wise I like the look of what appears to be sort of a grapevine engraving around the edge of the nib. For those curious, this is definitely not the same size nib or feed style as used by the 1940s Eversharp Skylines.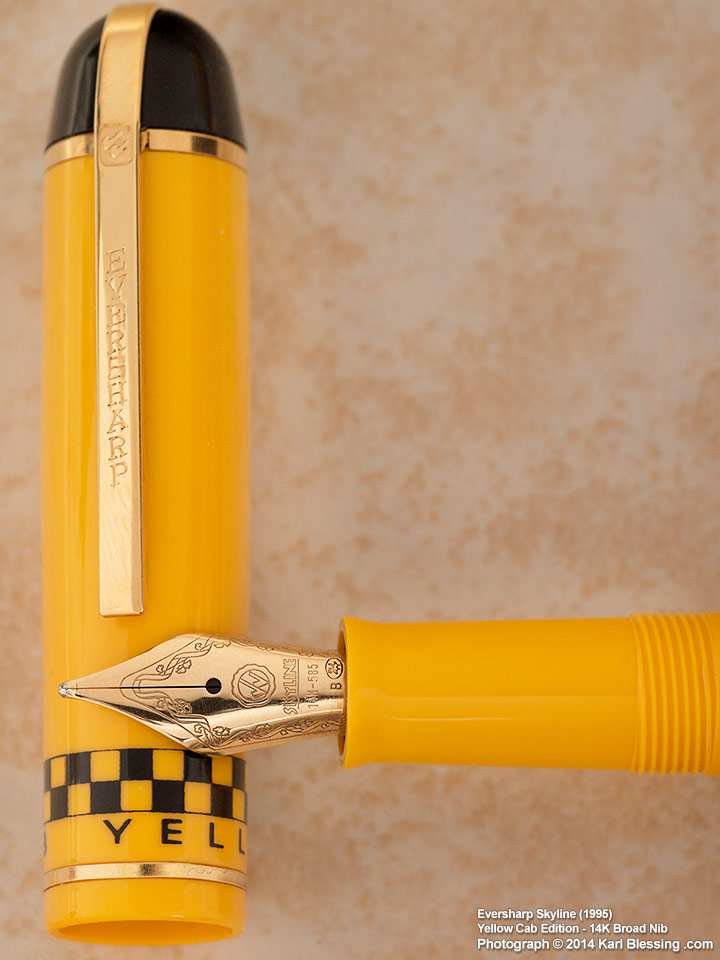 There is small crack on the barrel, I've identified probably why it's there (the converter pulls out, someone may have thought it twists and forced it to the left against the notch). Hardly noticeable once I got it cleaned in the ultrasonic, which I also did for the nib/feed just in case.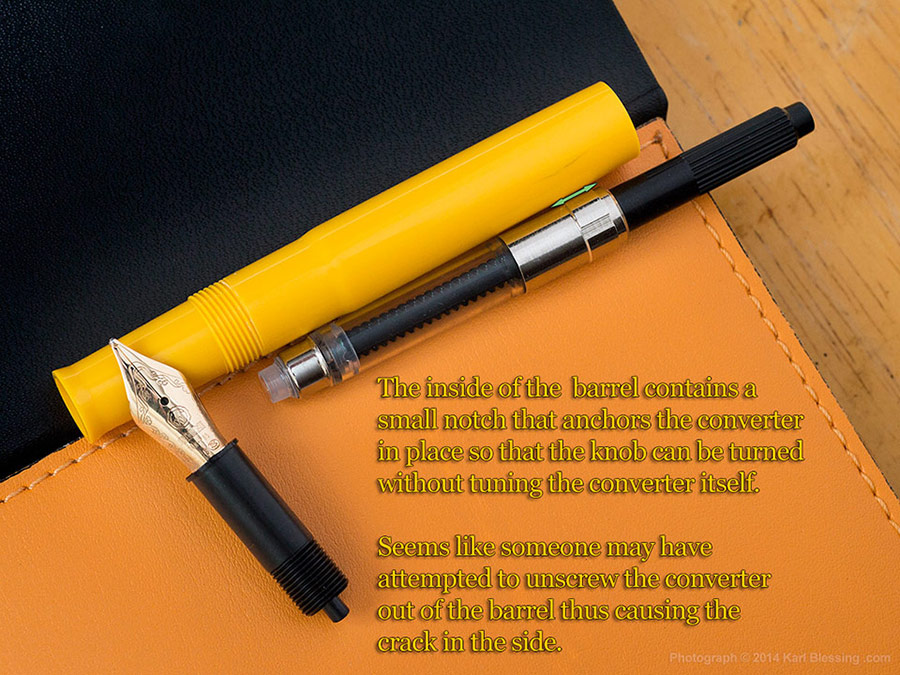 It will take a long standard international cartridge, the bottom of the cartridge is a little snug in the end cap (mostly from the air compressing when you push it down the end cap). But goes in fine, and when you unscrew the end cap it doesn't pull the cartridge from the barrel. I doubt it would take any other converter on account of needing that 'notch' to keep the converter itself from rotating when filling. It would however be nice to see the ink as it's filling, it's not possible to see because only the piston knob is shown when installed. Most other C/C (Cartridge/Converter) pens unscrew between the section and barrel, which allows you to see the converter as you are filling it.
I got it inked up with Iroshizuku Tsuki-yo and wrote on a small #12 Rhodia pad along with some other pens for size comparison.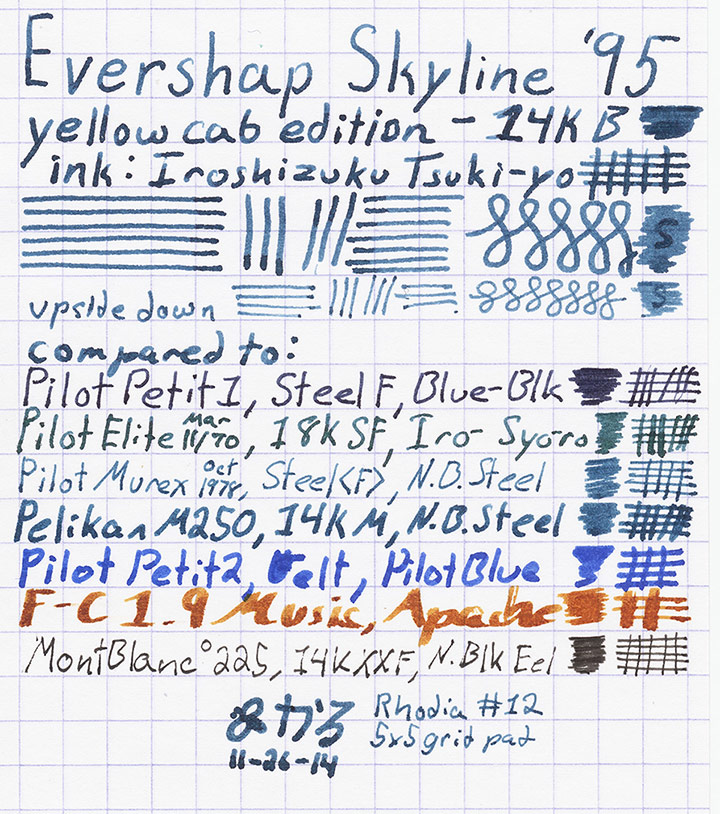 I still have my Eversharp Skyline Demi with the Army-Navy Wide-band Derby Cap shown here. I used to have a full size Skyline from the 40s, but it was one of the pens I traded for this one.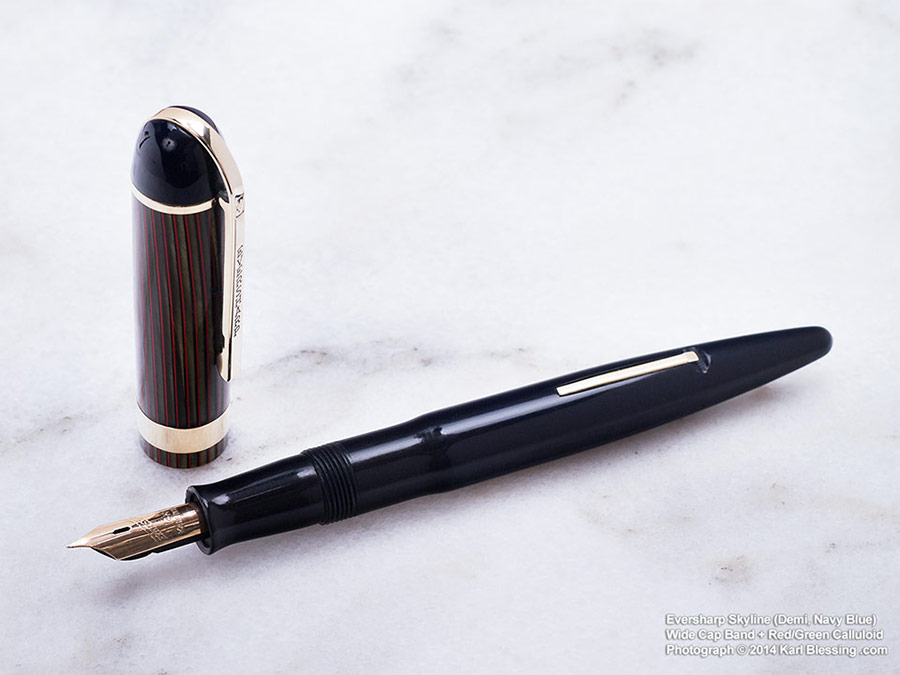 Now if I can just get my hands on a post-2013 Skyline.