Disclaimer : I received these from Pens N' More (Links to the 599A on their site) as a review sample at no cost to myself and I get to keep the sample. This doesn't affect how I evaluate the pen, as I still take into consideration how much it would have cost me normally. If I don't like something I'll say so.
There are currently three different Jinhao 599 models that I am aware of. The biggest difference between them is the nib, ink window and body/cap material, otherwise they're nearly identical.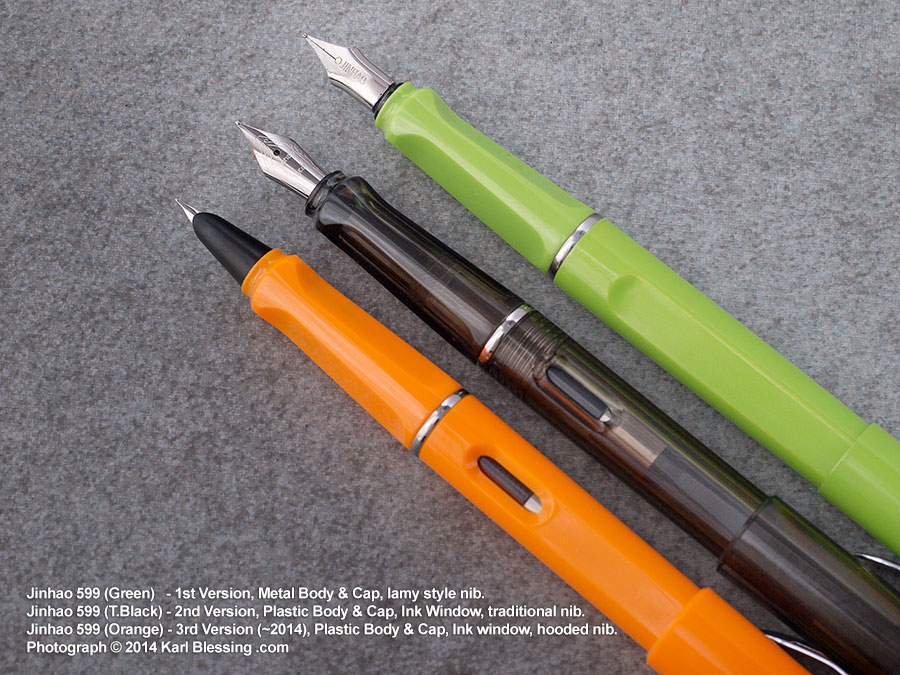 The original version came in a metal cap and barrel with a plastic section. The nib features a lamy inspired shape. The barrel lacks an ink window, and includes a metallic Jinhao brand printing. I have reviewed this specific model here.
Then came the 599 with a barrel that resembled the Safari even more. The cap and barrel were changed to plastic instead of brass, making the pen lighter and mostly plastic. Also included is the ink window. The lamy inspired nib was no longer used, replacing it instead is a classic open style nib like you would find on some of the smaller Jinhao and Baoer pens. (However some models of the 599A might also include the lamy inspired nib, but I've yet to receive one personally in that configuration).
The latest revision is nearly identical to the second in every way except one main difference. The nib on the latest version is a hooded one with a smaller line width which looks to be an extra fine.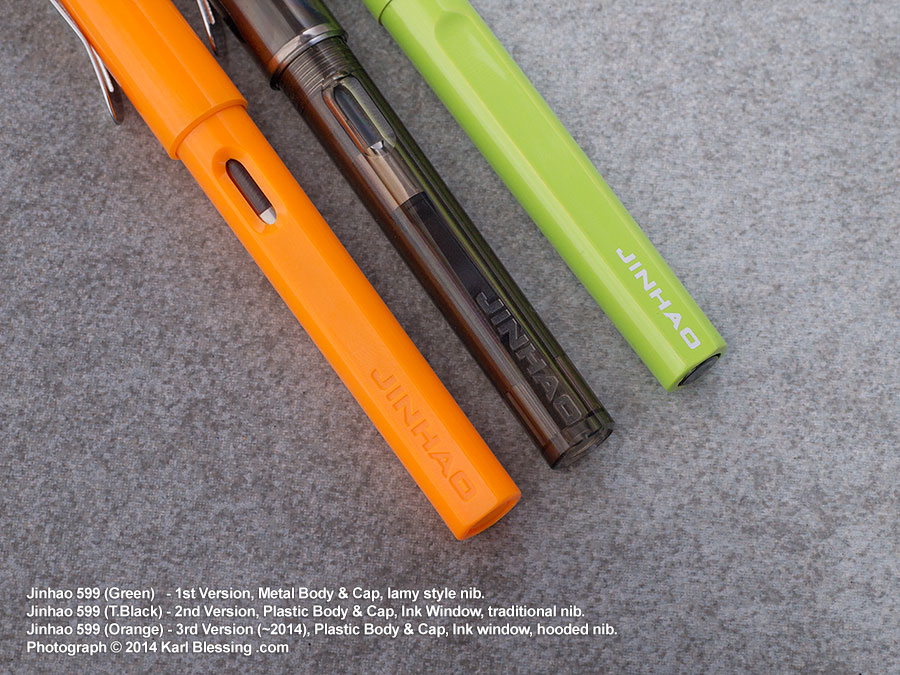 Appearance wise when capped all three versions look roughly the same outside of the branding and ink window.
The section between all three versions appear to be nearly identical with the same size and shape.
Also because the section and cap appear to be identical dimensions, the parts appear to be swappable. The brass cap is thinner in material, however the inner cap which can be seen easily in the translucent models appear to be the same as well. This means I can do things like put the 1st generation section w/ lamy-inspired nib onto a 3nd generation barrel with the ink window, and 2rd generation translucent cap on top to end up with this odd looking contraption. (Or you could simply put the section from a first generation section/nib/feed onto either a second or third generation body and cap).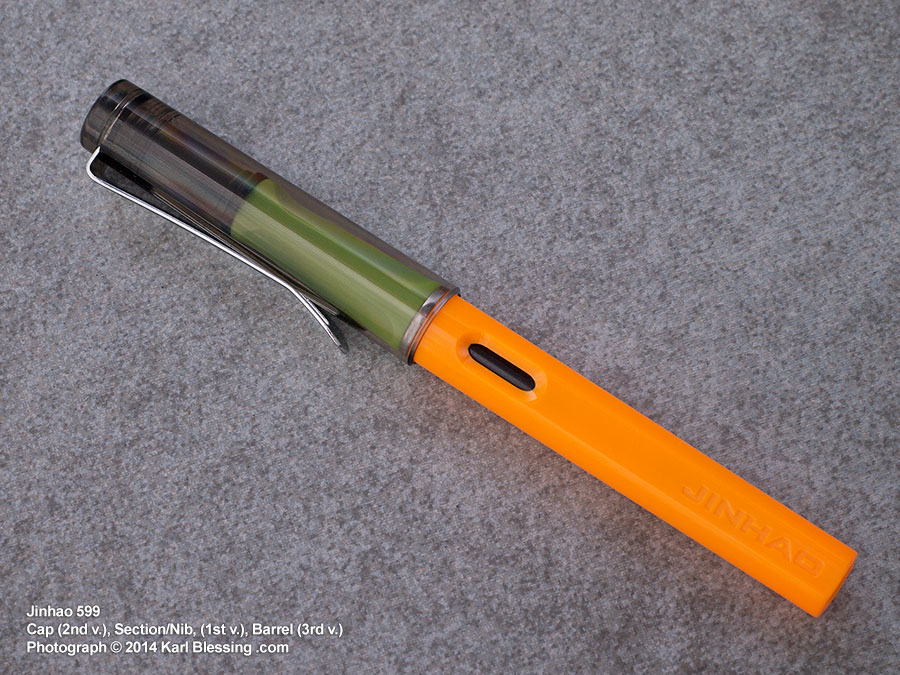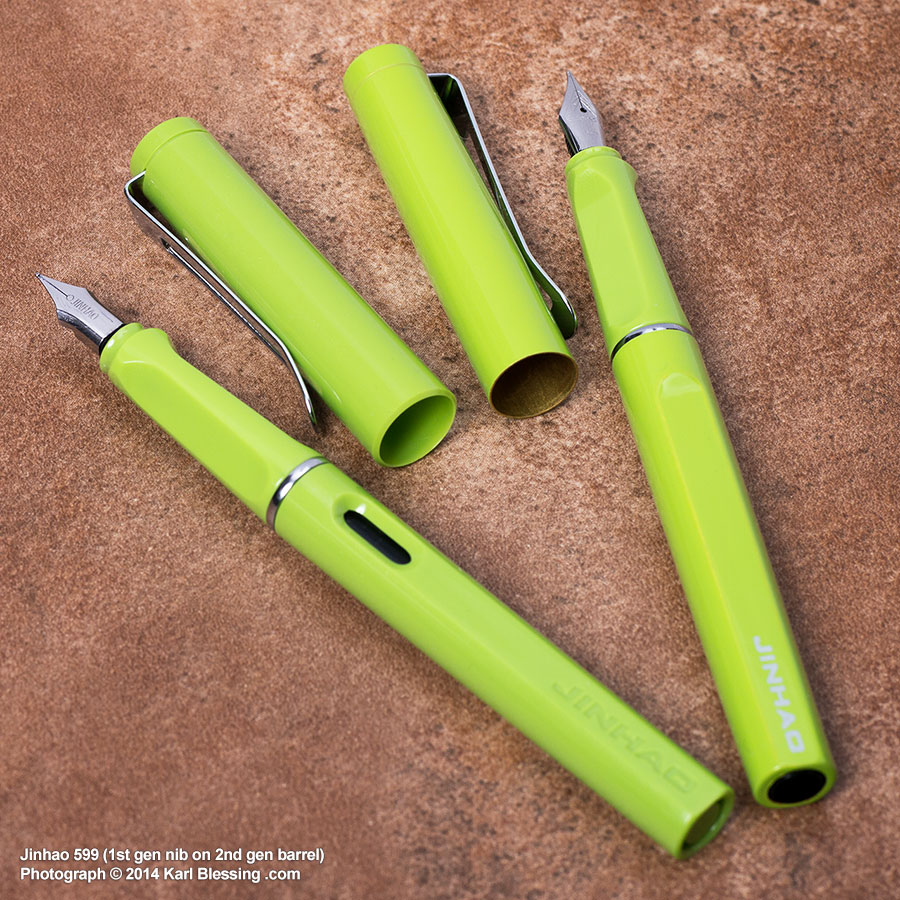 Personally I prefer the original version, especially with that lamy-inspired nib. But I can see the appeal of the later generations being lighter in weight, closer to that of the Safari it copies.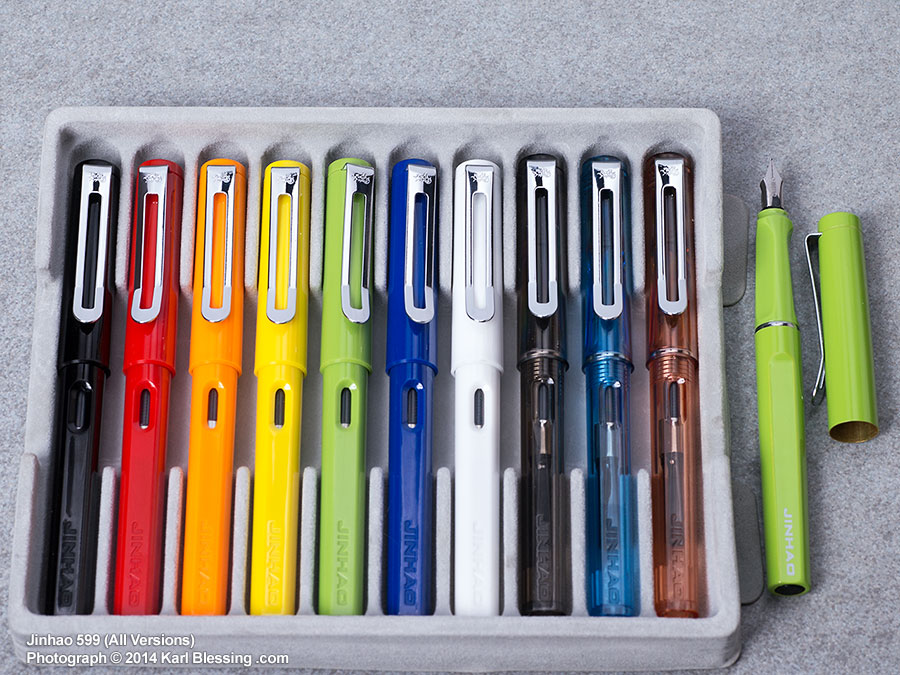 Given the number of colors you can pick from, I am sure someone could come up with an interesting combination.