Installing Passenger (Advanced)
This page is for the advanced configuration of Nginx and Passenger, mainly the only differences are:
You choose your own source
You can add additional configure parameters
If you had a previous Nginx installation, your settings will be preserved. Also you may wish to publish your existing configuration string by typeing nginx -V at the prompt. This will show you the additional parameters that were used when originally building Nginx, remember this for the Passenger installation.
If you have not previously installed Nginx, download and unpack your desired version into the ~/src folder.
cd

 ~

/

src


wget

 http:

//

sysoev.ru

/

nginx

/

nginx-0.8.14.tar.gz


tar

 zxvf nginx-0.8.14.tar.gz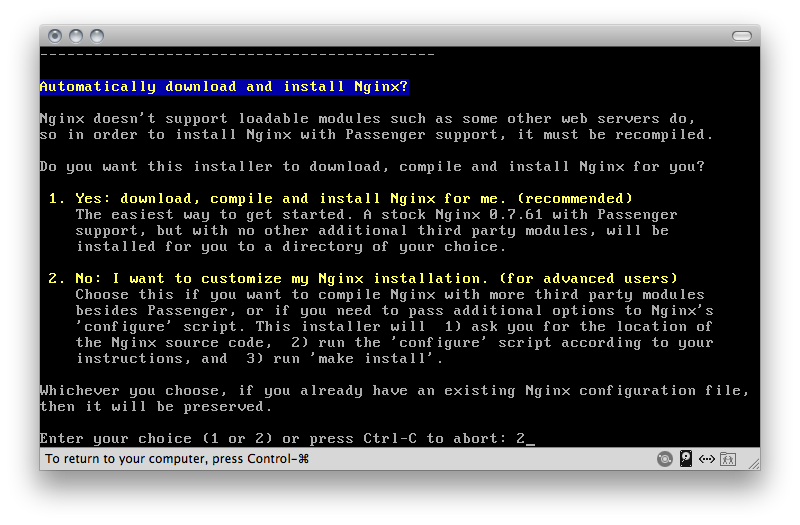 Unlike the previous page, we're going to choose the second option.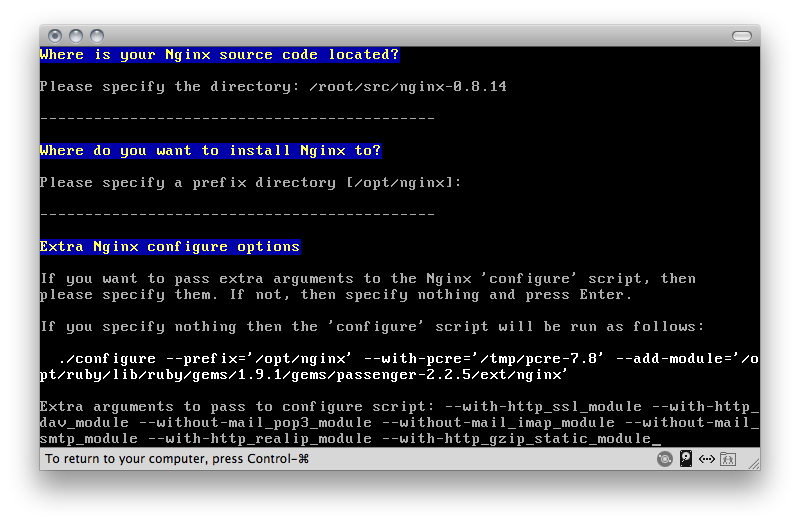 The first prompt you'll receive is asking where your source files are located, in this tutorial I unpacked 0.8.14 to the ~/src/nginx-0.8.14 folder. You'll then be prompted to give it a prefix destination, followed by the opportunity to provide additional configuration parameters. For my installation I provided parameters for SSL, Web-Dav, RealIP (handy for Backend work), and the GZip static module. I also took the opportunity to exclude the mail protocols normally included with Nginx.
The site you are currently viewing is running off Nginx 0.8.14 with the configuration above (plus a few modules not shown above).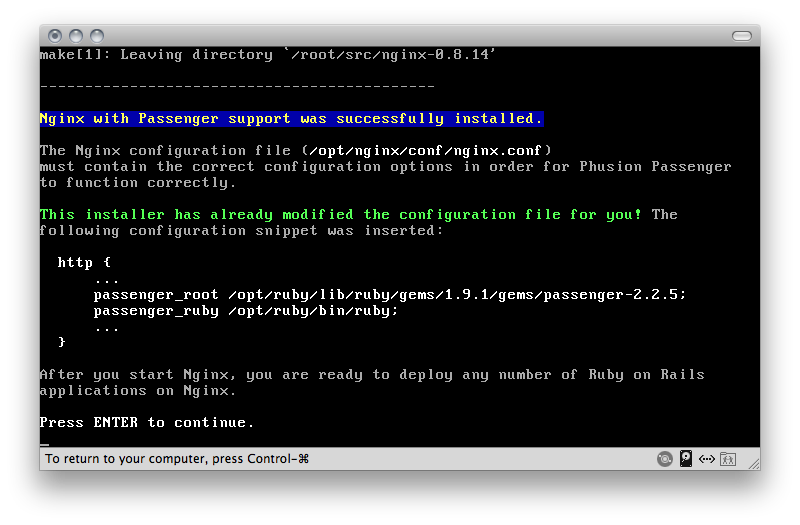 Once finished, Passenger will inform you that the Nginx configuration file has already been modified to load the Passenger module.
To verify Nginx is installed, you can check it's version (you may need to add /opt/nginx/sbin to the PATH).
# nginx -V


nginx version: nginx

/

0.8.14
built by 

gcc

 4.3.2 

(

Debian 4.3.2-

1.1

)


configure arguments: 

--prefix

=

/

opt

/

nginx 

--with-pcre

=

/

tmp

/

pcre-

7.8


 

--add-module

=

/

opt

/

ruby

/

lib

/

ruby

/

gems

/

1.9.1

/

gems

/

passenger-2.2.5

/

ext

/

nginx
 --with-http_ssl_module --with-http_dav_module --without-mail_pop3_module
 --without-mail_imap_module --without-mail_smtp_module --with-http_realip_module
 --with-http_gzip_static_module
Continue onto the next page to see how to load a start/stop script into init.d and load up your first Python (WSGI) application.