Installing Passenger (Simple)
If you want to install the current version of Nginx (0.7.6) with default options, then follow the steps on this page, otherwise continue onto the next page to next page for more advanced configurations such as using a newer version (0.8.14 was my choice), as well as additional configurations for nginx.
Installing a default build is very quick and easy:
passenger-install-nginx-module
Which will bring up the following installation screen.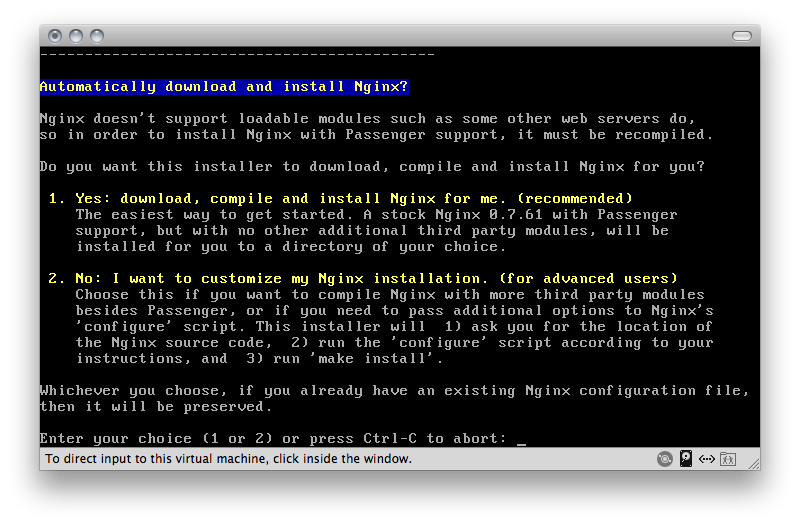 Above is the second screen (the first introduces you to Passenger and explains the process), here you are present with the option to have Passenger download, compile and install Nginx for you, usually at the current stable version (0.7.61 at the time of writing this). Choosing '1' will start this process for you. If there are known dependencies not yet installed, Passenger can install them for you (such as PCRE).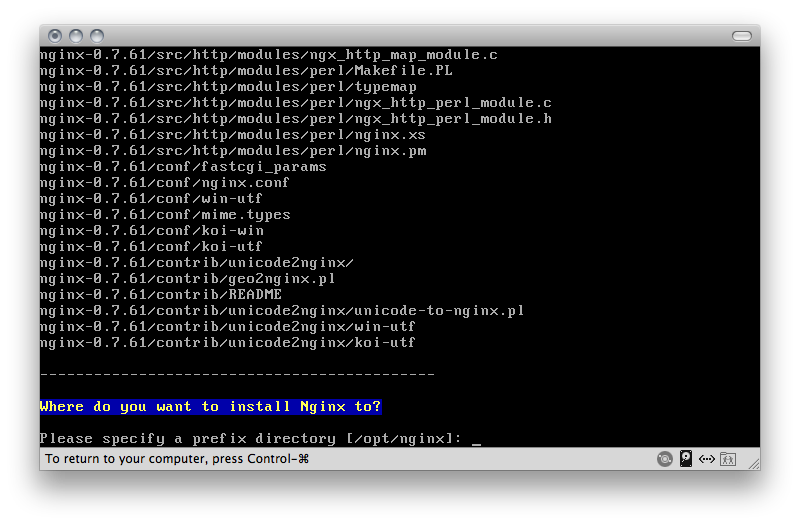 Once the source has been downloaded by Passenger, it will prompt you on where you would like Nginx installed to, by default it is /opt/nginx.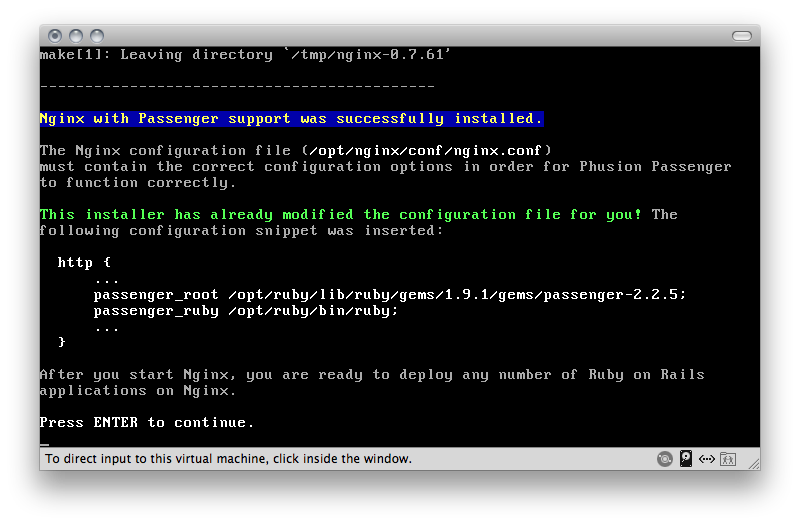 Upon completion, Passenger informs you that the default Nginx configuration file has already been modified for Passenger.
Then you can then verify the version installed (you may need to add /opt/nginx/sbin to your PATH):
# nginx -V


nginx version: nginx

/

0.7.61
built by 

gcc

 4.3.2 

(

Debian 4.3.2-

1.1

)


configure arguments: 

--prefix

=

/

opt

/

nginx 

--with-pcre

=

/

tmp

/

pcre-

7.8




--add-module

=

/

opt

/

ruby

/

lib

/

ruby

/

gems

/

1.9.1

/

gems

/

passenger-2.2.5

/

ext

/

nginx
The page following the next will show you how to set up a start/stop daemon with /etc/init.d as well as deploying your first Python (WSGI) application.